ABOUT vPeer
vPeer is a virtual peer-to-peer platform that helps organizations shift from Hub and Spokes to an Interconnected Network! We help create a community of professionals who get better at career and life.
We are thrilled to announce our partnership with vPeer. Holistic was able to interview Dilara to get an inside scoop at the company and how it all got started.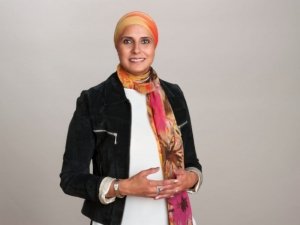 THE INTERVIEW
Tell us a bit about your background.
I was a teacher for the first part of my career. I loved it, but realized we must also equip adults to succeed. I spent the last decade in adult learning and workforce development. Most recently, I was Chief Education Officer at Golden Apple, developing strong educators across IL. This is how my passion for mentorship began.
In 2018, I ran as a progressive candidate for IL State Representative of the 5th District – something I never planned on doing! I ran for elected office to shine a light on the fact that many of our residents do not have access – to a high-quality education, economic security, and safe neighborhood. This is not a problem for a few- in fact, it is holding our whole city back. I came in second of four candidates, and am proud of bringing these issues to the forefront and showing how its connected to our individual – and collective – success.
I currently also teach leadership at Northwestern University and am on the Fulbright roster as a Specialist in Education, Workforce Development and Technology.
How did you get started with vPeer? What was your source of motivation?
Research reveals that 75% of successful people say they have mentors…the other 25% wish they did.  Mentors and thought partners helped me, and each of our vPeer team members, become who we are today. vPeer is our way of paying it forward at scale!
Helping individuals meet their potential has been my life's work. As a teacher during the first part of my career, and an adult professional coach and non-profit executive for the last decade, I have developed a strong understanding of how people learn.
Invest in your team so they invest in you. vPeer was founded to fill the need to connect and mentor our most important assets directly with each other – the members of our teams and organizations.
I developed this idea during my doctoral program, and we received a residency at the iLab accelerator at Harvard. vPeer was founded in Boston and launched in Chicago!
How is vPeer using technology to provide mentoring?
Technology is our platform. vPeer is able to scale peer-to-peer mentoring and thought partnership because we are technology based.
How is vPeer's impact measured through technology?
We are measuring repeat users, and usage patterns. To better understand how users are experiencing the platform, we review data on an individual's use and time on different parts of the platform, we track repeat users; time on platform, resources accessed, etc.
What are some of your personal favorite apps?
I am a great fan of independent public radio and love the new-ish WBEZ app. Having the app means I can catch up on great stories, news, shows anytime I want.
Winter is coming, and I now sneak looks at Hopper when I can. It's a travel app that gives me current great rates for getaways.
For the most part, I am simply a social media and news app junkie.
Tell us about your time in Chicago. Have you always lived in the same neighborhood?
I started school near Broadway and Montrose in a very diverse community. When my family was robbed by our neighbor who was on crack, my parents were afraid for their daughters, and we moved to the northwest side. We were one of the first non-white kids at Hitch School.
My husband and I lived in Naperville for a while and I was a teacher in the public school district.
Today, we live in the South Loop. It is a progressive, diverse neighborhood that is struggling to also stay diverse in class and ideologies.
What is your favorite thing about the city?
I am proud to live in a city that protects its lakefront for public use; you can watch the Air and Water Show from North Avenue Beach and you can get some amazing Sunday family barbecue at the beachfront at Jackson Park. During the summer, we kayak off 35th street harbor- it's like ocean kayaking right here in Chicago!
Which Chicagoan(s) do you admire?
Michelle Obama is a Chicagoan I admire deeply. She shows the world the depth, strength, and talent of our city. We don't get enough credit for those things!
I admire innovators and those who are working on persistent problems across our city. Often, these Chicagoans do not get the credit they deserve. I meet them as I travel and learn from them across our communities.
For example, Dhara Puvar is the Executive Director of SAAPRI- the South Asian American Policy and Research Center. Her team works to study the data on one of the fastest growing demographics in IL- South Asian.
Julie Sanders runs Hope Technology Center on the South Side, where residents learn how to fully utilize computers. Technology will only level the playing field if we have equitable access to learning how to effectively use it.