1871's eighth WiSTEM cohort will features 10 women-led businesses. To date, the 12-week program has graduated 88 companies and created more than 250 jobs.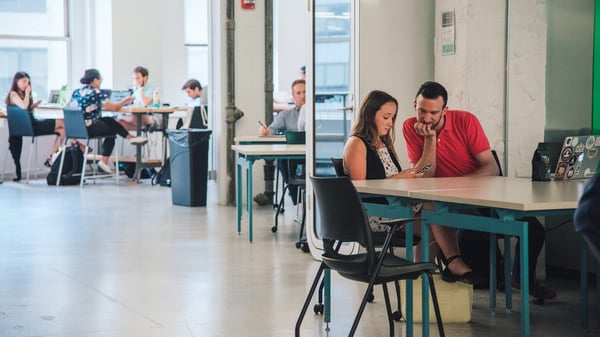 1871 is proud to announce the 10 companies that will make up the eighth cohort of WiSTEM, an accelerator program that connects women entrepreneurs to capital, community, and technology resources. The 10 entrepreneurs of WiSTEM Cohort 8 will take part in an intensive 12-week curriculum that will include mentorships, facilitated introductions to investors, curated programming, business-generating workshops, and a culminating showcase event in front of local tech and business leaders at 1871.
"We are very excited to start Cohort 8. The female founders we were able to meet through this program are outstanding and deeply passionate," said 1871 CEO Betsy Ziegler. "WiSTEM started as a program to support women entrepreneurs and it's evolved into a sisterhood that's generated jobs and revenue for Chicago's tech and business community, and I'm excited to see how this cohort will continue to raise the bar."
Member companies in C8 include:
"Our company, poolside, is redefining how work gets done in the food industry," said Maureen Burns, Co-founder and CEO of poolside. "We feel strongly that we are creating a long-term solution that will solve the labor shortage in a way no one else is doing today. We're proud of what we're building and the impact it will have. Where we need help though, is where WiSTEM comes in with a network of experienced entrepreneurs and mentors. With WiSTEM's support, we can accelerate and scale our business operations to create the impact we want."
Led and facilitated by Ms. Tech Founder Nicole Yeary and WiseApple Co-founder and CEO Rebecca Sholiton, members of the WiSTEM program gather each week at 1871 to receive business and technical training, problem solve challenges that they're facing, and build powerful networking and mentorship relationships. The program prepares founders for the critical stage of a startup's lifecycle that comes after developing and testing a minimum viable product.
"I'm looking forward to diving into the trenches with the entrepreneurs from WiSTEM's eighth cohort," said Rebecca Sholiton, Co-Facilitator of 1871's WiSTEM program. "The caliber of businesses and ideas coming out of 1871 and the Chicago tech ecosystem gets better every year, and I think these women and their ideas are a testament to that trend. I can't wait to see what they accomplish in 2018 and after WiSTEM."
To date, WiSTEM has graduated 88 companies and created more than 250 jobs. In addition to the WiSTEM program, 1871 has launched a number of major efforts to support and empower Chicago's women entrepreneurs and business leaders including ChiBuys, a first-of-its-kind program supporting women- and minority-owned food vendors, and a collaboration with the YWCA to expand sexual harassment awareness initiatives for businesses throughout the Chicagoland area. 1871 staff members also strive to make diversity and inclusion a priority in their recruiting efforts, events, programming, membership, and every other facet of the organization.